FAQ
Always reach out to us if your question isn't listed
1. Can I bind with Commercial Binders if...?
If you are planning to have top surgery/chest surgery or have been diagnosed with chronic conditions, we recommend you consult your physician/healthcare provider before deciding on binding.
Some of the health risks may include the following. However, we could not provide a complete list of all referencing conditions. Still, we hope this information can help provide a guiding perspective for you.
• Respiratory conditions:
Although no clinical evidence shows binding is a triggering factor for Asthma, chest binder does apply compression to the chest area, which may lead to other health risks that are potentially triggering.
• Skin-related conditions:
For example, LUPUS, being an autoimmune disease, patients could develop skin issues or weakened muscles, in which case, the binding compression could have negative impacts.
• Musculoskeletal conditions:
For scoliosis patients, the compression from chest binding may affect the progression of the symptoms.
02. Differences between a Fytist chest binder and a sports bra?
Similarities:
Both types of products provide the function of holding breasts in place while moving.
Differences:
• Sports bras serve more as a padded bra in terms of providing support for breast tissue to stay in their cup forms. Sports bras are typically made with stretchy material and thus could not achieve the outward appearance of a flat chest.
• Chest binders, on the other hand, apply more robust compression to the chest area to achieve a flatter appearance. Being considered compression garments, chest binders are not suitable for intense physical activity, especially with ill-fitting binders.
03. Which Fytist Binder style is a better fit for me?
04. What's the difference between Fytist model #01 & model #02?
#02 (e.g., BT02, BR02, etc.) stands for the Lycra version of Fytist Chest Binders. With this patented elastic fabric, this 2nd generation product provides better stretchability and moisture-wicking abilities. As a result, the fabric breathability is comparatively higher than the original version and has better durability. Allow the #02 range to be safe for water activities.
The #02 range, with its improved softness and comfort, has become our customers' top choice and will replace the original range as we go through with the remaining stock.
05. Can I swim in a Fytist Binder?
Yes, Fytist's #02 range is safe for water activities. But our binders are not dedicated as swimsuits, so we recommend the following:
• Always wash it and dry it properly right after the water activity. Otherwise, it may affect the product's durability.
• Allow your binder to dry off a little before taking it off. A wet binder could be more challenging to take off and more likely to cause skin irritation.
06. Can I work out in Fytist Binder?
Depending on your workout strength level:
• We do not recommend wearing a commercial binder if your workout is high intensity, such as heavy weightlifting, HIIT, or intense cardio exercise.
• If your workout is light activity, and wearing a binder for your exercise makes you feel better, get a binder that is one size up from your standard Fytist size.
07. How to find my Fytist (fittest) binder size?
Please don't use your regular bra size as a reference.
Make sure to use a tape measure and follow our measurement guide to get your chest measurement.
Then refer to our size chart at: https://fytist.com/pages/sizing
08. Do you offer binders for larger breasts?
Fytist offers a wide variety of binder sizes, from S to 5XL. If you are looking for a 6XL (chest measurement: 52in - 57in or 132cm - 147cm), it is available on special request but only on our Regular Tank BT02 Black. We will continue to work towards covering more chest sizes.
09. What if the size I need is out of stock?
We try our best to re-stock ASAP, but we ask for your understanding that we have an 8-week turnaround time from new batch production to the warehouse. If you need to place the order urgently, please email us, and we shall try our best to shorten the turnaround time.
If we could not fulfill your order shipment due to any unexpected circumstances, Fytist customer service team will contact you via email within 7 for the next step.
10. How do I put on or take off a commercial binder?
Put on
• Putting on a Fytist binder should be similar to putting on a tighter top.
• Adjust your breast tissue gently towards the direction of your shoulders inside your binder.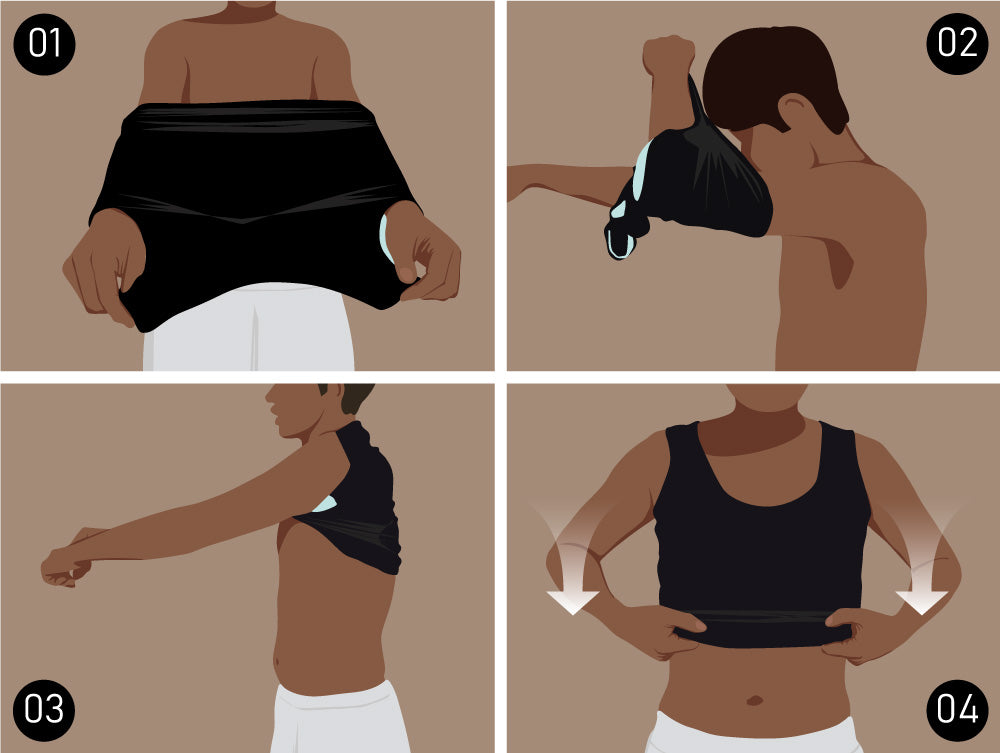 Take off
• Grab both sides of your binder and wiggle it as you pull it up to your shoulder.
• Grab on the binder's shoulder straps or neck hole, and pull it upwards as you bend forward.
11. How long can I wear my binder?
• If this is your first-time binding, we recommend that you should start with a shorter period and gradually increase your "in-binder" time.
• The majority would suggest wearing no more than 8 - 10 hours daily. But with our quality binders' unique structure and material, we have been accredited by our customers that wear up to 12hrs in daily casual scenarios with zero complaints.
• Do not sleep in your binder.
• Listen to your body. It will give you a red flag if your binding is causing issues, e.g., shortness of breath or signs of chest pain. Don't forget to check in with your physician/healthcare provider about how you feel wearing a chest binder.
12. How to care for my binders?
We recommend washing and drying according to our care label printed on the back of your binder, which is: Hand washing with cold water is highly recommended, but if machine wash is a personal preference, then when available, use a laundry bag and the "delicate" setting on your washing machine. Air-dried/Line dry recommended.
Dryers could potentially damage the structure of the binder, which may lead to a less ideal compression level, resulting in a less perfect flattening function.
13. Do you offer discreet packaging?
Yes, we guarantee that your information will NOT be disclosed on our packaging, both product packaging & Shipping packaging.
14. How can I track my order?
Once we have dispatched your order, you will receive an email update with the order tracking info. Typically, our order processing time is 24 hours after order confirmation. It will take approx. 1 - 2 working days before the link is updated for your tracking.
Note:
If you have questions about your tracking, don't hesitate to contact us at support@fytist.com, and we shall look into the logistics status for you.
15. What is your return policy?
We offer a 30-day Money Back Guarantee (if applicable) for all products purchased on at www.fytist.com.
If unsatisfied with our products, please get in touch with our customer support team at support@fytist.com. For more detailed information, please visit https://fytist.com/pages/return-refund-policy
16. Will I be charged any additional fees?
If we had to ship your order internationally, your destination country might require a duty charge based on the amount of your order.
17. Why can't I place an order?
Please check the following solution if your order fails to go through on our website. If the problem still stands, shoot us an email at support@fytist.com.
• Please use Visa, MasterCard, Maestro, or PayPal to pay for your order.
• Please visit our shipping page and check if we ship to your location. https://fytist.com/pages/shipping-delivery